Bocci
Unlike typical corporate structures, Bocci operates unconventionally as a co-operative community of designers, architects, craftspeople, technicians, agents, governance bodies, testing facilities, raw materials suppliers and fine shops. Our aim is to build a healthy, flexible and stable network united under the goal of creating practical but striking consumer goods of the highest quality.
The trend in contemporary manufacturing is to outsource production. In contrast, Bocci is committed to manufacturing at our Vancouver factory. We have a fully equipped glass blowing studio in the same building as our offices, warehouse and design studio, and off site locations for glass casting, ceramics and metal sand casting. Our designers, technicians and salespeople walk through the factory floor to get to their desks, and thus have an intimate and profound connection to our work. All these activities take place around a central courtyard with a very large tree, carved into the 5th floor of a renovated art deco former printing press building located close to Vancouver's downtown, on the edge of the Pacific Ocean.Read more
As a company, we are committed to participate in the speed of contemporary culture. We've structured ourselves to hold strong inventories, and have invested in a network of warehouses worldwide, such that the things we make are available with astonishingly short lead times and in many cases shipped within 24 hours of an order.
Even though our pieces focus on the more emotional, irrational and romantic shades of the contemporary design spectrum, we are deeply committed to rigorous and intelligent execution. We are not afraid of technical complexity, and are constantly searching for technical innovation. When we came to the conclusion that commercially available lamps did not meet our rigorous quality standards, we developed and are now manufacturing our own proprietary Xenon and LED lamps, which have longer lamp lives and lower failure rates than any available alternative. Our thirst for innovation translates into everything we do, ranging from the process of making the sculptural chandelier shades, to the design of the components that hold them together, to the lamps that are used to light them, and to the packaging that contains them.
Website: http://bocci.ca/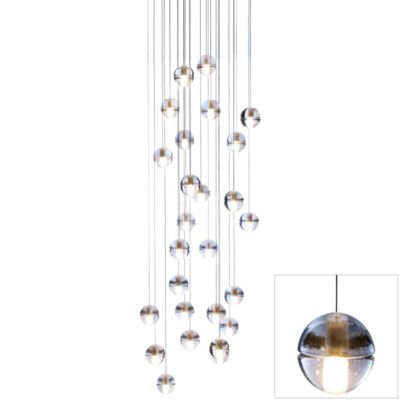 14 Series Seven LED Pendant Chandelier by Bocci
Product in the interior:
- Elegant Canadian Chalet Provides Lavish Comforts
- Canadian Home with Two Toned Interior and Exterior
Product review: Floating Stars: 14 Series Seven LED Pendant Chandelier by Bocci