Despite being one of the most essential elements in any home, windows are more than just a commodity. They are a way to dissolve the barriers between the outdoors and the indoors and provide a home with natural light. Without windows, we would surrounded by artificial light that can be gloomy and unsatisfying. during the days and be plunged in darkness during the evenings making tasks and life generally a lot more difficult. Windows are of high importance in any home and should be given the care and attention they need.
Windows are generally made of the same substances, glass, metal and wood, but they can vary depending on location and local techniques. Despite their similar construction windows come in a variety of different sizes with heights, lengths and depths having certain maximum dimensions. Due to the production method of glass, at this current moment in time, it is very difficult to make one pane of glass larger than a few meters, so many modern homes that have walls made of windows, usually have windows that are fixed section by section. Windows can be cut in a variety of different shapes, including circles, squares, rectangles and sometimes rounded edged shapes. This opens up a whole host of possibilities when it comes to design and construction of a house.Read more
Some windows have different finish options, with frosting, lamination and film being the top choices. Windows are not just exclusively used on the exterior of a house, as some designers like to install windows into the interior walls to create interesting effects. Frosted glass is often used in bathrooms to help allow more natural light to penetrate through whilst still keeping it private. Films are often used in bedrooms and bathrooms in the form of a two-way coating. This allows people to see out of the window, but stops others from being able to see in which gives another dimension of privacy. This kind of two-way coating can also be used on the exterior windows, when the owners do not want people to be able to see into the house.
Most modern homes have plenty of windows, with walls being made entirely from glass! This new trend has a very sophisticated look, especially when there is a wonderful view to look at! As well as this, these windows allow natural light to literally flood into the room, improving brightness and clarity. Rooms with lots of windows often benefit from white walls and neutrally coloured flooring as this further emphasises the brightness of the room.
Windows are the portholes to the outside world and provide a home with an abundance of natural light as well as fabulous views of the surroundings. Why not have a look through some of the images in this section to see how windows can transform your home! If there is something you like, why not share it to your Facebook or Twitter profile, so you can find the things you love easier and faster!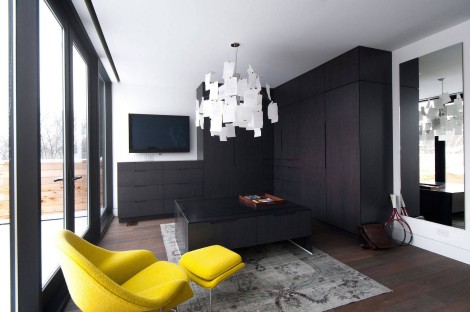 Master closet with built in cabinetry and sitting area
See all photos in project: Roxborough Residence
Designer: Shirley Meisels
Photography: Stephani Buchman Photography