Views are incredibly important for many home-owners, as your location and surroundings can have a direct effect on your emotions and feelings. Imagine waking up and opening your curtains to find a dull brick wall staring back at you, or a factory working away in the distance. Given the choice, most people would either choose a seaside view or a forest view, all of which have their own benefits and advantages. No matter which view you would prefer, they are tremendously important not only to your well-being, but to the construction, style, layout and overall look of your home.
Seaside locations are one of the most popular places to live as the views can be utterly breath-taking. Being woken in the morning to the sound of the rushing ocean and chirping sea-gulls often promotes feelings of relaxation and tranquillity, so it is no wonder that it is a very popular choice for home-owners. The location and approximate distance you are away from the ocean can play a very important role to the view you will see out of your window. If you are very close to the waters edge and have a house by the promenade, you will often get a full view of the horizon in the morning and be able to see the sunrise from your window. If you are further back, you get to see the horizon, but you will also see other buildings and civilisation in your view, so if you are looking for an undisturbed view of the sea, it is always best to be as close as you can to the edge of the water.Read more
Forests are another popular location for a house, especially for those who have a love for wildlife and nature. Being woken up to the sound of chirping birds and rustling trees that blow in the breeze, often promotes a sense of well-being and harmony and looking out of a window or door to see verdant green trees and shrubbery often feels fresh and calm. Some home owners prefer to be completely surrounded by trees in the middle of a woodland, whereas others would prefer to be on the edge of a woodland looking into the vast density of the forest itself. Location can be very important when it comes to forest views as if you don't like the idea of being surrounded by the unknown then a house at the edge of a forest would be a better choice for you!
No matter which type of view you prefer, both have their own advantages and benefits. Looking out to sea first thing in the morning can be just as wonderful as looking out into a woodland, but personal preference is what makes us unique! Why not have a look through some of the images in this section to see how a view can transform a home! If there is something you like, why not share it to your Facebook or Twitter profile, so you can find the things you love easier and faster!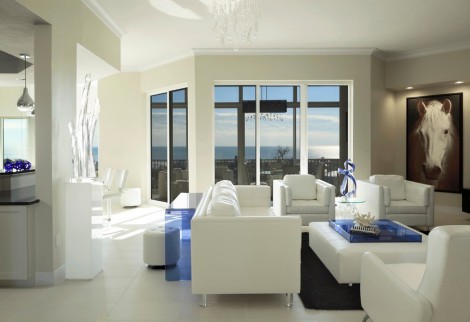 Open contemporary living room with white walls and furniture
See all photos in project: Modern High Rise
Designer: Studio M Interiors
Photography: Lori Hamilton Photography