I specialize in creating aerial landscape and architectural images. Also with a little abstract thrown in. At the moment, this is what interests me. I strongly believe that we should choose to do what interests us. As photographers, to photograph what interests us.
For almost 20 years, I have photographed just about every type of building, both inside and out. I have photographed these buildings and spaces for architects, designers, construction companies and many others involved in the construction and design industry.
My aerial landscape photography is a unique and different way of looking at the natural world around us. And I do it for that very reason, it is unique, a different way to view the landscape. Simple landscape forms and shapes take on a whole new look, have a completely different feel, from 50 feet in the air. That's right…only 50 feet above ground can make a tremendous difference.
Digital technology has certainly revolutionized the photographic industry. It has become the "swiss army knife", maybe more appropriate, the "leatherman tool" of photography. Digital technologies are a package of tools, a means to and end. That end being a vision, or visual creation the photographer has in his or her mind, which then is brought out on paper, or as you are looking at now, a screen. The word "digital" has become a buzz word for a type of photography. It's not really a type, just a new and different way of getting to the final image. Just as film, chemicals, and darkrooms did before, digital means are now at our disposal to help solve photographic problems and create our vision. So it is with these tools, that help me put my camera up in the air, and create images with extraordinary detail, that come to life once printed big and displayed on a wall.
Address: Fort Collins, Colorado, United States
Phone: 206.227.5878
Website: http://www.steve-keating.com/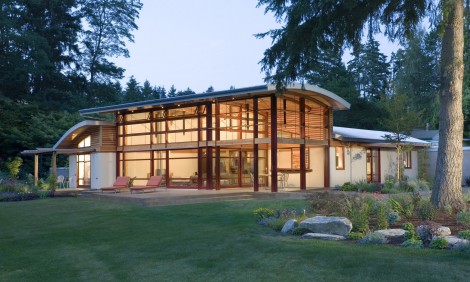 Wood exterior details and curved roof
See all photos in project: Garden House
Architect: Balance Associates Architects
Photography: Steve Keating Photography