Moontower Design Build is a design and construction team founded by Frank Farkash, Greg Esparza and Jeff Munoz.
Moontower was founded on, among other things, a passion for creating dwellings and outdoor living spaces for the inspired residential or entrepreneurial consumer — Moontower works to design and build spaces tailored to Austinites. We like to listen to folks and always look to see where the sun is setting – these habits give our projects unique character resonating with our clients while responding to location: neighborhood, rural, urban, you name it – what we do, when done well is a blend of Art, Science and gettin' along with people.
Our design smarts and construction background paired with our neighborly collaborative spirit give us depth and holistic vision to solve problems directly without making new ones for our team or others. We are committed to Austin and our community and fully intend to be a part of its future, one project at a time. That commitment requires stewardship, leaving places better than when we arrived. Being conscientious with resources informs our design, estimating and job site management but also prepares us for generations of growth in one of the most compelling and comfortable cities in the world. We started with unique outdoor spaces designed and built to bring people together, to celebrate – work hard and play hard. We intend to keep on building at a variety of scales true to our roots in spirit but growing in complexity and urban impact.
Address: 1406 Smith Road, Austin, Texas, United States, 78721
Phone: 512-524-7253
Website: http://moontoweraustin.com/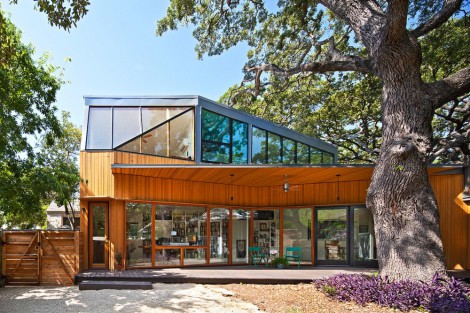 Roofline, covered patio area and windows
See all photos in project: "Stekler House"
Architect: Murray Legge Architecture
Contractor: Moontower Design Build
Photography: Patrick Wong Photography