The owners, a successful businessman–internationally honored for his social awareness–and a gynecologist, conceived of their project as a fertile ground for bringing together people and ideas. The 100 year-old Victorian farmhouse clearly had good bones, but over the years unfortunate facelifts and additions had left it somewhat listless as well as thermally challenged in both summer and winter.
They felt that the original Victorian had a certain charm and should remain essentially unchanged, but that the renovated kitchen and dining room addition should have an open 'Zen' sensibility connecting it to the surrounding garden. With gracious ceiling heights, the articulated spaces are filled with light and extend generous site lines throughout the house. A wide multi-fold door completely opens the new dining room to the outdoors, while its generous veranda roof shades the interior space from the western sun. This porch features an outdoor countertop and sink for washing vegetables on their way from the garden to the kitchen and table.
Improving the home's energy efficiency was a given, and we sought to model appropriate technologies and innovative solutions. The old house received a complete insulation and air-tightness wrap, while the new addition includes both passive and active solar features. The minimal heating needs are easily met by a solar-assisted domestic hot water and space-heating system.
The new addition also features a variety of recycled materials, including a vanity made out of a salvaged marble slab from the walls of a Brooks Brothers store in San Francisco. Local craftsmen and sculptors were engaged for the 'tansu' tub, uniquely carved bathroom door, entry bench, dining room table made of reused bowling lane, and custom pot rack over the kitchen island. Salvaged Douglas fir bleacher seating was re-planed to create warm, textured ceilings, while simple clay paints and finishes enhance the serene quality of each room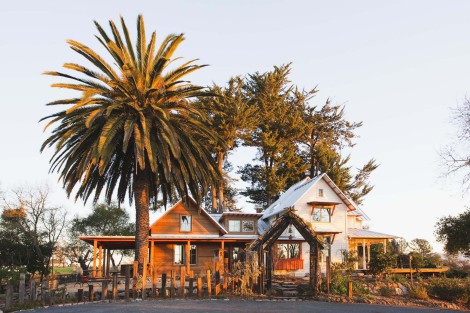 Beautiful thatched trellis
See all photos in project: Idea Garden
Architect: Arkin Tilt Architects
Photography: Edward Caldwell Photography