Gardens are amazing spaces that can be tranquil, relaxing, invigorating and even fun and vibrant. They provide your home with its own little patch of nature, your own private escape that can be decorated and enhanced with plants, trees, bushes and outdoor furniture and accessories such as barbecues and outdoor dining arrangements. The morning sun can be enjoyed in a garden with a cup of tea in one hand and a magazine in the other, it can be enjoyed in the afternoon over lunch and even in the evening for a social get together and a spot of dinner and drinks. The possibilities are utterly endless when it comes to your garden and it is your own little space that you can be turned into whatever your heart desires.Read more
Usually, the larger the home, the larger the garden, so you can imagine that more elements can be placed inside a bigger space. However, it is not usually the size that matters, it is what you do with the space you have. Some large gardens can look to intimidating with lots of open land and wide open spaces, whereas some smaller gardens can actually look quite cosy! There are advantages and disadvantages to both large and small gardens, but any garden is better than none! With larger gardens there is a lot more space to fill which means more plants and bushes and also more expense. There is also the downside that it needs a lot more care and attention than a smaller garden and can take twice as long to maintain. So, if you are after a easily maintainable garden, then the smaller option is for you. However, larger gardens can provide ample space for things such as swimming pools and seating areas, so if this is your idea of a perfect garden space then a larger one is definitely for you. Smaller gardens can sometimes look cramped and uninviting, but with the right layout and design, they can look charming and very beautiful.
Some people prefer gardens with lots of vegetation and flowers, whereas others prefer simple, flat ground with functional elements. If you are someone who loves the idea of a quintessential English garden with lots of flowers, a fountain and beautiful trees, then there are lots of examples to give you inspiration. If you are after a usable space with places to sit and places to eat, then you will also find lots of inspiration in this section to give you tips and ideas. Whatever your preference and whichever kind of style you are aiming to create, get inventive and really utilise all of the space you have been given.
Gardens are a real gift and should be given the time and attention they deserve. Why not have a look through some of the images in this category to give you some inspiration! If there is something you like, why not share it to your Facebook or Twitter profile, so you can find the things you love easier and faster!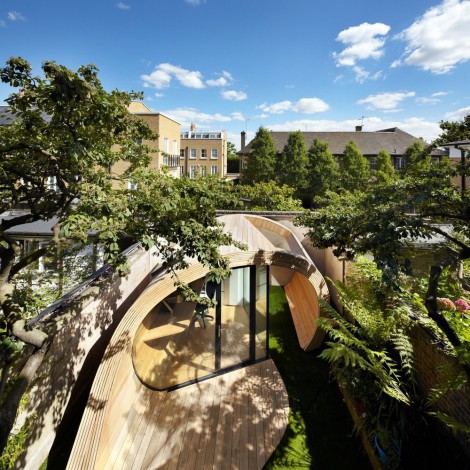 Slanted window with floor through to outside
See all photos in project: Shoffice
Architect: Platform 5 Architects
Photography: Alan Williams Photography