Location: Dripping Springs, Texas
Completed 2010
Contractor: Schatz Builders
Landscape Design: Mark Word Design
Photography: Whit Preston
Situated close to a stand of oak trees at the edge of a grazing pasture, with a view opening up towards the property's water tank, this house is a clean and simple rendition of a traditional ranch house. Oriented on-site to take advantage of prevailing breezes and minimizing solar gain, a light monitor extends the length of the house organizing the spaces. Large pocketing doors extend the living area, opening up to a wrap around porch with a large screened area. A pool and low site wall connect to a smaller guest house on the property.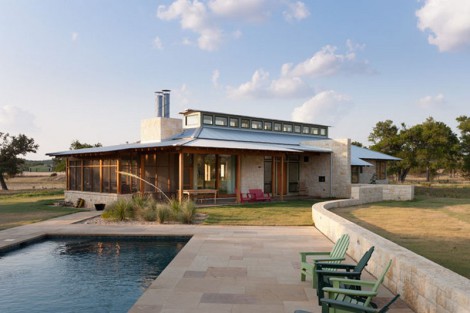 Large screened area connected to kitchen
See all photos in project: Flaming Goat Ranch
Architect: Furman + Keil Architects
Photography: Whit Preston