Fireplaces are wonderful additions to any room, providing multiple benefits in one hit. Not only do they look fantastic in any room, they are also functional, serving as a focal point and a source of heat for the home. They are often at the very centre of a room and can be seen in modern and traditionally styled homes with a variety of different styles and themes.
Fireplaces come in a huge range of different sizes and styles and often have either a fully working chimney or an electric or gas fire to provide warmth to a room. Fireplaces date back to the early Tudor period, with marble being the main material used back in that era. Some of our modern day fireplaces still embody this traditional styling with brass fire surrounds and opulent looking grates. They can be found in large and small sized rooms and often vary in size depending on the area of the room. When they were first produced, fireplaces were designed and made to give a particular room adequate warmth, so this is the reason why smaller rooms often have smaller fireplaces.Read more
If you want to spruce up an existing fireplace, or even have one installed in your home, then there are a few things that must be considered. Large rooms often benefit from large fireplaces as small ones seem to get lost in the surrounding wall space. If your fireplace is fairly small, you could easily make it look bigger by adding a larger fire surround or fitting in a larger mantelpiece. If you have a small room, and your fireplace seems to drown out the surrounding space, then you could install a smaller mantelpiece to make the overall construction appear smaller than it really is.
Material and colour are often important factors when it comes to fireplaces as they can help to define a small fireplace or subdue a large one. If you want to make a fireplace stand out against neutrally coloured walls, then why not choose a striking black mantelpiece and fire surround. This is sure to give some amazing contrast in a simplistic and neutral room. If you want to subdue the structure of your fireplace, why not choose a white or cream coloured mantelpiece and reduce the size of the firebox to give it a repressed look. In order to reduce or expand the size of your mantelpiece, you could also increase or decrease the height of the pillars to give a lower or higher fireplace surround.
Whether you are after some inspiration to modify and adapt your existing fireplace, or simply need some ideas for a new fireplace, this section will provide you with lots of images to ignite your creativity. There are endless possibilities when it comes to your fireplace, so why not have a look through some of the images to see how you can turn it into a fantastic focal point! If there is something you like, why not share it to your Facebook or Twitter profile, so you can find the things you love easier and faster!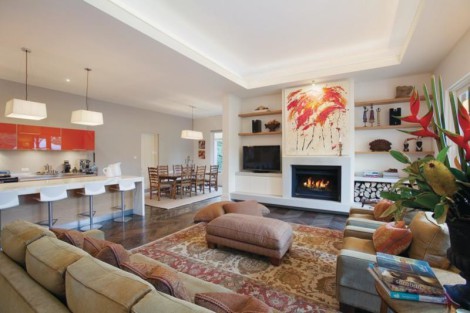 Mid-sized traditional open concept living room
See all photos in project: Malvern House
Architect: Schulberg Demkiw Architects