This new ground-up urban infill residence is strategically located at the intersection of two major bike routes in the Mount Baker neighborhood of Seattle. The lot is narrow, but has lake and mountain views to the east. We sought to craft an efficient custom residence that uniquely represents the Owners' personality and lifestyle within a realistic budget.
Our clients, a very active couple, wanted a home that would not only have storage and maintenance space for their 18 bicycles, but would also be fun for entertaining through a strong connection to the exterior. They were very engaged in our design process, even providing us with scent vials meant to evoke sensibilities they wished to experience in their home- cool ocean, woody comfort, industrial, and balanced quiet/calm. They also gave us a metaphor of Iceland, which provided inspiration for a refined industrial, natural, and stark pallet of materials.
The challenge was to create a cost efficient home where the couple could immerse themselves daily in their passions while still being energy efficient and low maintenance. We constrained the footprint to allow for a vertical home in order to capture the higher panoramic views, with the master bedroom on the top floor. Roof decks, wraparound fenestration, and open space orientation are meant to connect occupants to the site and make the house seem larger than it's 2,500 square feet.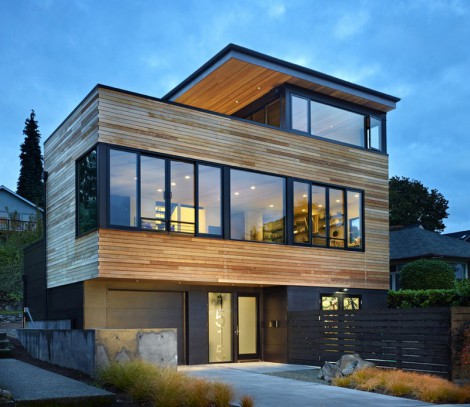 Contrast of cement panels and cedar siding
See all photos in project: Cycle House
Architect: chadbourne + doss architects
Photography: Benjamin Benschneider Photography