Recently listed and sold by Sotheby's for $8.5 million, this contemporary Canadian chalet features a dramatic entry, lined by towering stone walls, a modern metal and wood staircase and water fountains. Around the fountains' pool, dark tiles have delicately been laid to form its edges. Inside the front doors, an animal skin rug greets visitors, while a giant wall clock sits lazily to the left. Oversized glass windows reveal a rich green forest, light drift through between the leaves. A wall has been adorned with square wood panels, with a built-in display case appearing on the inside edge. Within the largely neutral toned living room erupt tiny bursts of color, in the form of a couple of seating cushions and throw pillows.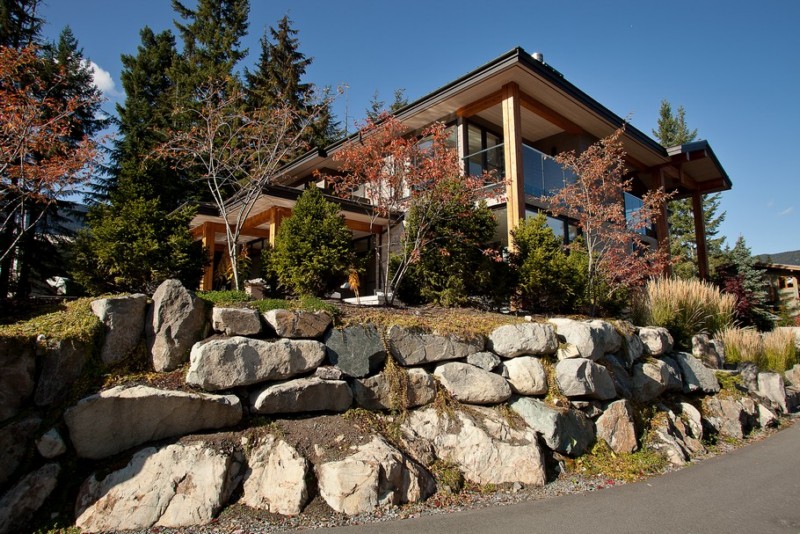 It's difficult to believe that this penthouse was built in the 1920's with its ultra modern interior and immaculate attention to detail, it looks very much the styling of the 21st century. London architect John Pawson has taken this 90 year old penthouse and transformed it into a minimalists dream. This construction boasts large brushed steel windows and tall glass doors that open out onto a roof top balcony. The interior is bright and airy with plenty of natural light beaming through the glass and the white walls and furniture help to bounce this light off to create an almost surreal sight. The plain oak floors give warmth to the rooms whilst adding a delicate texture to the overall interior.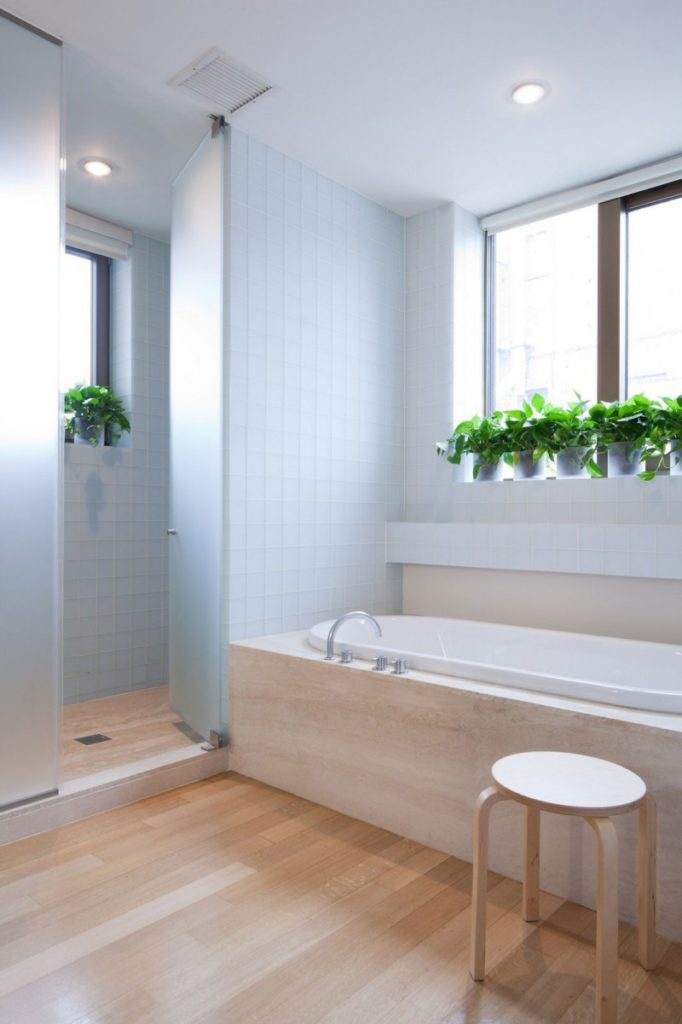 Well lived in and often used, this sprightly home in Miami successfully uses a warm, monotone palette to highlight its space, structure and modern elegance. The home office has been arranged to focus on a white work table flanked by four white rolling office chairs. Light wood shelves hang high, lined in a bright, cheerful shade of yellow. A montage of cool, neutral grays, purples and blues are prominent in the master bedroom. Green plants, the tiny trace of dark hardwood floors and an open design help to shape the master bedroom as well as set it apart. A blue canopy is made in another bedroom by way of a textured wall and ceiling. More hints of green grow out of bathroom mirrors and shower walls, seemingly sprouting out of nowhere. Designed by DKOR Interior.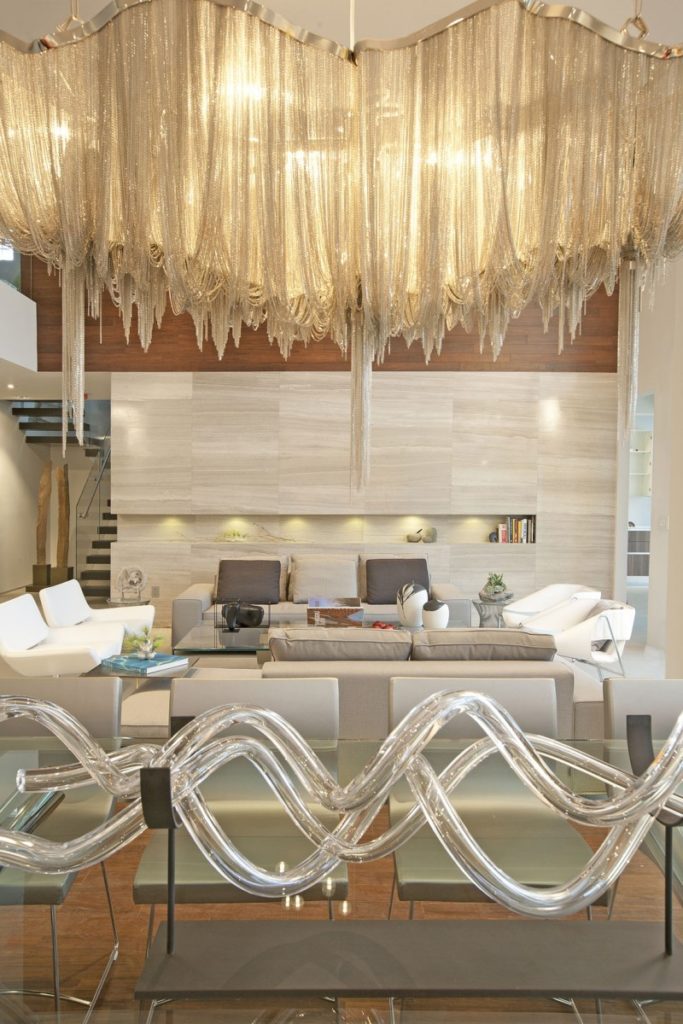 When the owners of a quaint Brazilian apartment contacted Mauricio Arruda Arquitetos & Designers, no one was certain of what would develop. While various elements of traditional Brazilian sensibilities are present in the living space, there is a definitive contemporary and European vibe that permeates the home. Colors are combined freely in each and every room to create a theme that resembles organized chaos. A black and white geometric painting hangs next to a large chrome floor lamp. Yellow cloth covered dining chairs are fixed to the ground with metal bases. Bright green foliage has been placed in delicate porcelain vases, with ornate glass figurines posed on top of a black cabinet. Red floral wallpaper hangs in the kitchen, blending Brazilian traditions with a contemporary aesthetic.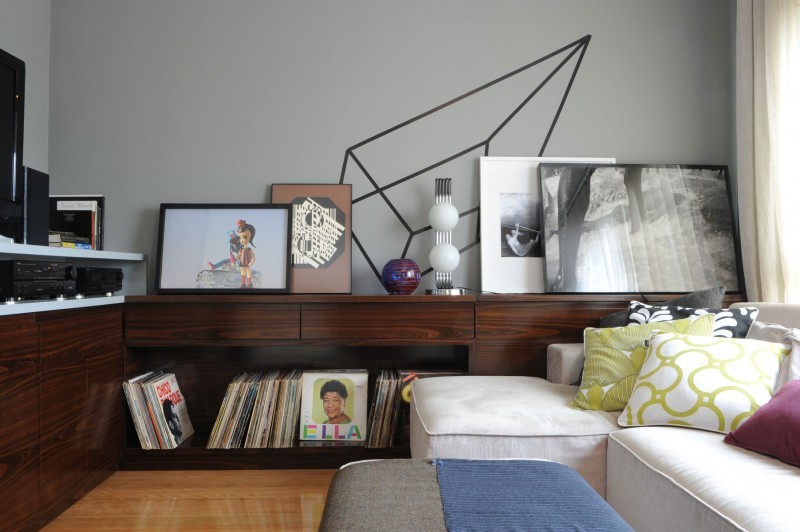 This immense construction looks out onto rolling hills and wild shrubbery and was built on a hillside in San Salvador. The main rooms of the house are in fact oriented to help maximise the view of wildlife, mountains and the Pacific Ocean for the environmentally conscious owners. Jose Roberto Paredes and his team of architects from the company Cincopatasalgato used natural and sustainable materials to build the house, and even built a pool located at the front of the building. The large glass panel windows and doors enable light to pour in from every angle and the beautiful views to frame the rooms. The decor of the house encompasses a very neutral yet modern look and feel with purposefully designed furniture.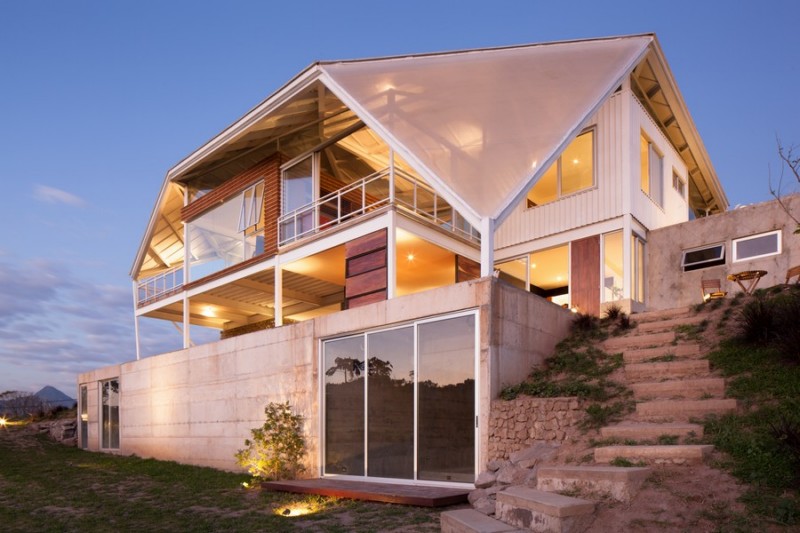 Outside, a two level brick home painted in two contrasting shades of gray stands over a gently manicured lawn as well as a two car garage. A similar motif, involving light and dark is also found inside the house itself. Designed by Kariouk Associates, this two toned house is based in Ontario. Grays, blacks and dark colored woods intertwine with the stairs, furniture, countertops and floors. Lighter colors also flow through the home, harmonizing with deeper colors, creating original stories and transformative ideas. The ongoing power struggle between light and dark gives this Ontario home a regal quality. Dark wood kitchen cabinets seem taller, straight and more aligned than usual, the twinkling lights in the dining room seem a little more diminutive than the average chandelier.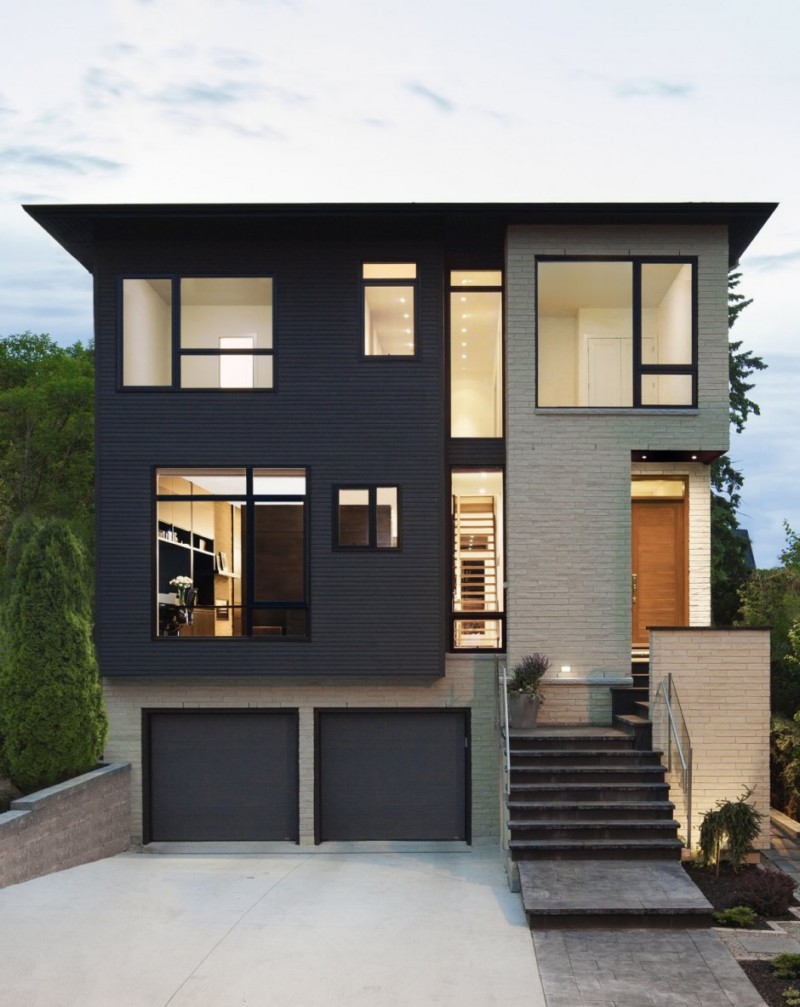 Stunning and vivid, the interior of this apartment in Poland has almost completely been laid out in black and white. Designed by Widawscy Studio Architcktury, it is the intrinsic use of color that makes the smallest interior designs awe inspiring. Light and bright blues, cartoon cows and images of a baby fill the nursery. Two skylights sit on a slanted wall in the bathroom, while a staggered pattern of dark and light tiles simulate water droplets in the shower and next to the large mirror. The gray and white living room features dark walls, light wood flooring and a gray and black couch. Small plants arranged in white, square planters are seen on the floor, on top of tables and in random corners around the apartment.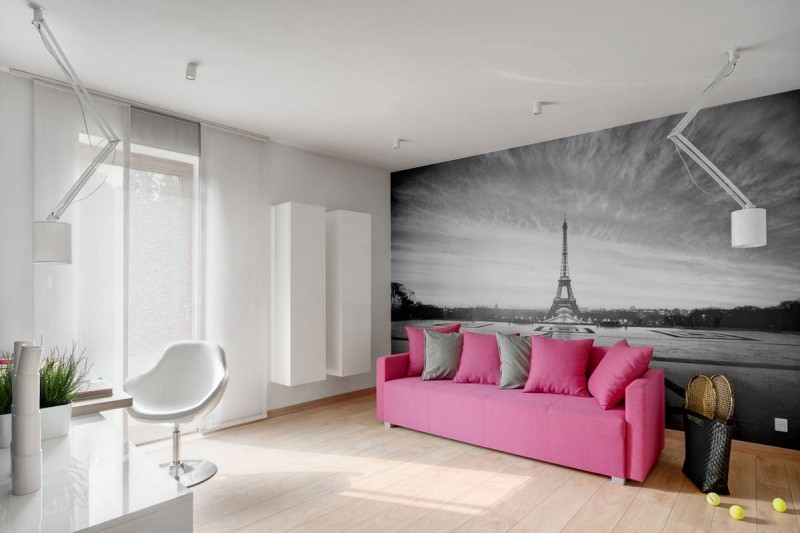 Starting on the outside and continuing on into the interior, concrete wraps around this home's walls and runs into the ground. Smooth, flat stone are laid into the concrete that finds its way into the kitchen floors. A small bedroom is treated with concrete on the floors and walls. A window framed in honey colored wood has been placed at ground level, allowing light to come in from strange and varied angles. Designed by Swiss Wespi de Meuron Architekten, this concrete house is anything but cold and dreary. Despite the fact that the entire structure has been seemingly dipped in recycled rock, there is an honest openness that could not be duplicated with any other material. Strangely calming and organic, this concrete house expresses classy minimalist.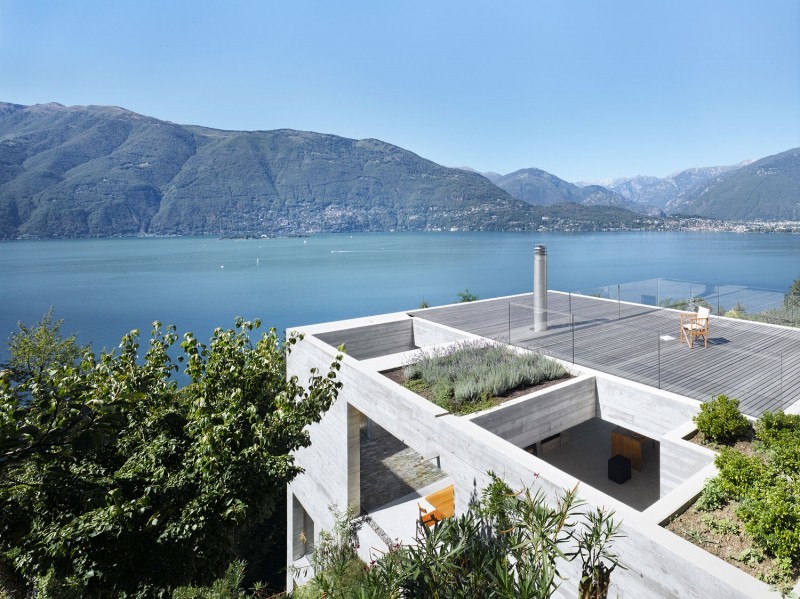 This modern house is a beautiful example of a summer residence for anyone wanting a weekend getaway surrounded by glorious woodland. The house is of simple geometric construction, built with wood and glass materials, and has a strong projecting roof to protect from direct sunlight. The wooden deck surrounds the house and gives a modern look and feel. Located near Vienna, Austria and designed by Architects Moosman, this wonderful little abode has a glorious open plan space at the front of the building, and has separate rooms and a bathroom tucked away into the back of the house, giving it some privacy against the openness of the living area. This is a great example of a summer house that is practical, modern and best of all beautiful! Photos by Manfred Seidl.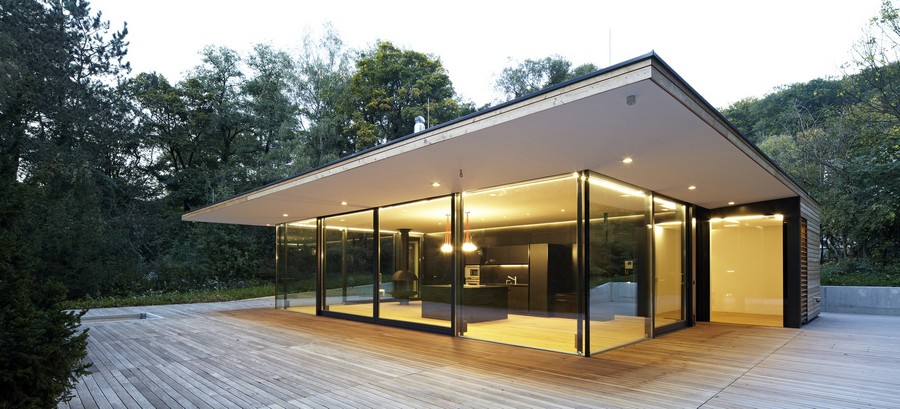 This gorgeous apartment has a real eclectic style that seems to merge together modern and rustic design. Located in Turin, Italy, this apartment was designed and developed by con3studio in 2012 and still looks amazing to this day. With an open plan living area, the main space feels open and inviting and the suspended balcony is a brilliant feature. The kitchen is fairly small in size, but big in style and personality as it looks clean, fresh and open with white cabinets and a stainless steel surface. The bedroom looks inviting and very comfortable and the mezzanine floor really adds to the dynamics of the house. Overall, this apartment is fresh and modern, with some cute and functional additions that make it a wonderful place to live.