The Eagle Harbor Cabin is located on a wooded waterfront property on Lake Superior, at the northerly edge of Michigan's Upper Peninsula, about 300 miles northeast of Minneapolis.
The wooded 3-acre site features the rocky shoreline of Lake Superior, a lake that sometimes behaves like the ocean. The 2,000 SF cabin cantilevers out toward the water, with a 40-ft. long glass wall facing the spectacular beauty of the lake. The cabin is composed of two simple volumes: a large open living/dining/kitchen space with an open timber ceiling structure and a 2-story "bedroom tower," with the kids' bedroom on the ground floor and the parents' bedroom stacked above.
The interior spaces are wood paneled, with exposed framing in the ceiling. The cabinets use PLYBOO, a FSC-certified bamboo product, with mahogany end panels. The use of mahogany is repeated in the custom mahogany/steel curvilinear dining table and in the custom mahogany coffee table. The cabin has a simple, elemental quality that is enhanced by custom touches such as the curvilinear maple entry screen and the custom furniture pieces. The cabin utilizes native Michigan hardwoods such as maple and birch. The exterior of the cabin is clad in corrugated metal siding, offset by the tall fireplace mass of Montana ledgestone at the east end.
The house has a number of sustainable or "green" building features, including 2×8 construction (40% greater insulation value); generous glass areas to provide natural lighting and ventilation; large overhangs for sun and snow protection; and metal siding for maximum durability. Sustainable interior finish materials include bamboo/plywood cabinets, linoleum floors, locally-grown maple flooring and birch paneling, and low-VOC paints.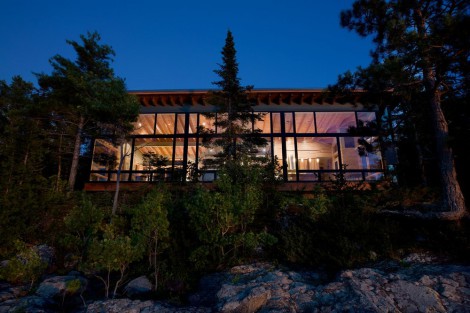 See all photos in project: "The Eagle Harbor Cabin"
Architect: FINNE Architects