Laurie and Dave Reed were committed to building a house with a sustainable carbon footprint for their family of four. In the process, they collaborated with us to design an environmentally responsible home built with efficiencies throughout. It is a haven of elegant design and sustainability that sits quietly upon the land.
Laurie is architecturally trained and provided not only the inspiration for her home's spatial arrangement, but also guidance in the meticulous interior and finish detailing. Together we created a purposeful, unambiguous architectural style that is both warm and visually intriguing.
Modern, low-pitched living roofs cascade with the natural topography. Their terraced construction elevates the landscaping offering intimate views of surprize and delight from each room and providing a connective fabric between the private master bedroom and the gabled communal living space.
On the exterior, reclaimed mixed hardwood siding makes a subtle counterpoint to the rough texture of the natural stone on the and garage. The web of the succulent sedum growing on the living roof further softens the union of wood and stone.
Reflecting a long history and strong character, pylons repurposed from a railroad bridge that once crossed the Great Salt Lake create the home's exposed structural timber frame. A delicate wall of glass reveals mountainous views of the Flattops Wilderness to the west, while the structural timbers emerge just far enough to stave off any harsh afternoon sun in the main living spaces.
Continuing to minimize their footprint, the Reeds went beyond just using reclaimed woods and insulation. Photovoltaic panels line the southern roof of the main gable, gathering the sun's energy to supply their electricty. Both solar thermal and geo-exchange energy are provided for in the house's high-tech mechanical infrastructure. When brought in-line, the house has been engineered to be "Net-Zero", which means it would create all the energy it would consume over the course of a year.
Sleek modern finishes of glass tile, exposed steel and modern casework elegantly round out the Reeds' diverse architectural preferences. The smart modern edge adds a clean contrast to surrounding rustic wood textures and natural Colorado fieldstone.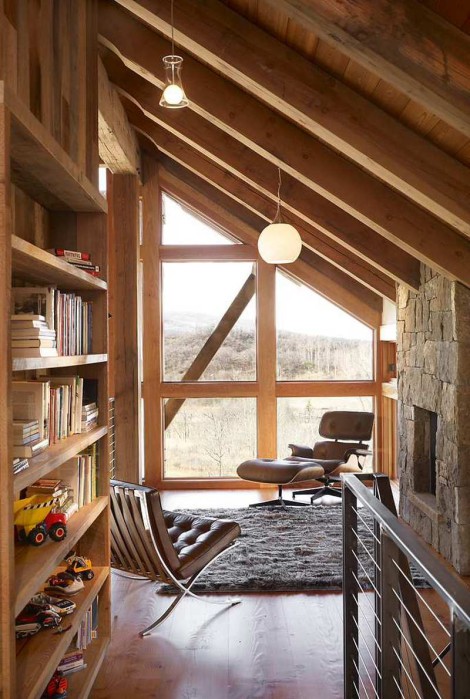 See all photos in project: "Sitting Quietly"
General Contractor: Gerber Berend Design Build
Photography: David Patterson Photography