Designed for a photographer and a writer as a multi-purpose space for painting, drawing, writing, photography, creative dreaming, holiday meals, small workshops, and overflow guests, this 864 SF building with porch and terraced extensions frames the top of the hill above a small existing dwelling. Metal siding, used to better protect the shaded north side, wraps the east end of the house at the transition to the porch-covered entry and wood board-and-batten used on the rest of the walls. Large, colorful wall panels at the interior serve as accents for the otherwise white walls and open to reveal work spaces. The large, light-filled primary space, with polished concrete floors and a ceiling painted blue between exposed wood framing, adapts easily to the changing uses.
GREEN FEATURES
- Small size with open, versatile plan allows for conservation of resources and reduced carbon footprint.
- Sited and shaped to maximize daylight and natural ventilation.
- High-performance glass used in doors and windows. Wood windows and doors with exterior aluminum cladding prevent thermal bridging, lengthen life span, and reduce maintenance requirements.
- Concrete floors for thermal mass.
- Low-use water fixtures in bath and laundry.
- Western Red Cedar for all but the north side of the house; locally harvested and naturally resistant to rot and decay.
- Metal siding on north side for resistance to mildew and decay, a common occurrence on north-facing wood and stucco-faced walls in this climate zone.
PROJECT TEAM
Builder: Mike Samuelson Construction
Interiors: David Wakely and Sharon Smith with Cathy Schwabe
Structural Engineering: Ingraham De Jesse Engineers (Nellie Ingraham)
Photography: David Wakely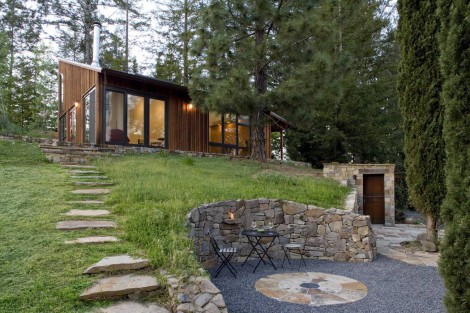 See all photos in project: Russian River Studio
Architect: Cathy Schwabe Architecture
Photography: David Wakely Photography