My interest in photography started early in my life, when I was young I begun experimenting with black and white and then moved to color photography, developing negatives and test printing for days at a time in search of that perfect image. I have always been curious to learn about analog and digital photography, including advanced digital technology not only applicable to photographic equipment but also to editing software and image processing techniques. Such knowledge helps me apply not one, but several techniques to improve my work every time.
My foremost objective is to visually convey to the viewer a striking transformation from "before" to "after" and to communicate at the same time, the designers' vision and principles behind their work. "… The beauty of creative minds expressed in one single image is without a doubt priceless!"
My passion for design would later lead me to pursue an education in architecture at Washington State University. I graduated with a BS in Architecture and a Minor in Graphic Design and Photography to complement my knowledge of design and construction. I moved to the Metro DC area in 2002, for the next five years I worked for a multi award-winning design/build firm where I was lucky enough to be given the opportunity not only to show off my work as a Professional Photographer and to actually have it published in several magazines, websites, and newspapers, but also to lead its Publicity and Marketing Department for several years. I now work as an independent professional for many design/build companies and architecture firms…, and my list keeps growing!
My education and work experience in Architectural design, Photography and Graphic Design plus Website Design and Management, Publicity and Marketing has given me a unique perspective on what Contractors, Designers, Architects and Builders need to further promote and grow their business. It was just recently that I decided to share my work, because I am a firm believer that…, everybody should let others admire their work and their accomplishments…. and there is nothing most gratifying than the client's satisfying feeling of accomplishment when they see their projects come to life, from what they were to what they've become…, the way I see it through the lens of my camera.
My decision to expand ProArc's field of expertise has been in my mind for quite some time and now, after much deliberation with myself, it's become a reality. After years of fulfilling my clients' photographic needs, I had the chance to get to know lots of people and friends whose marketing needs were not being achieved professionally. In part due to lack of knowledge and time, but mostly because of a shortage of proper resources to complete all necessary tasks. I realized that to further grow their business; they needed some proper guidance and professional assistance, which I'm pleased to provide from now on – From graphic and website design and development, to managing entire marketing campaigns online and/or through printed media. Now, let's get to work…, shall we?
Phone: 301-910-2657
Website: http://proarcphotography.com/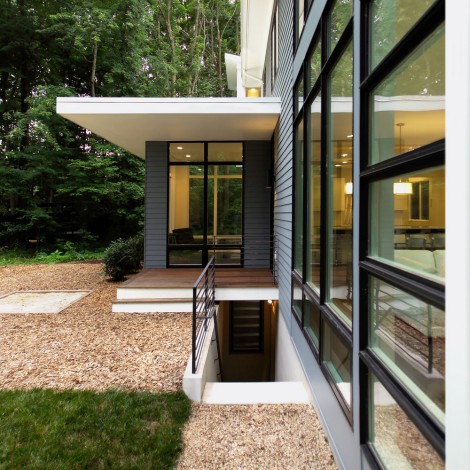 Tall windows and deep overhangs
See all photos in project: Riverside Residence
Architect: Moore Architects
Photography: ProArc Photography