The site for this new house was specifically selected for its proximity to nature while remaining connected to the urban amenities of Arlington and DC. From the beginning, the homeowners were mindful of the environmental impact of this house, so the goal was to get the project LEED certified. Even though the owner's programmatic needs ultimately grew the house to almost 8,000 square feet, the design team was able to obtain LEED Silver for the project.
The first floor houses the public spaces of the program: living, dining, kitchen, family room, power room, library, mudroom and screened porch. The second and third floors contain the master suite, four bedrooms, office, three bathrooms and laundry. The entire basement is dedicated to recreational spaces which include a billiard room, craft room, exercise room, media room and a wine cellar.
To minimize the mass of the house, the architects designed low bearing roofs to reduce the height from above, while bringing the ground plain up by specifying local Carder Rock stone for the foundation walls. The landscape around the house further anchored the house by installing retaining walls using the same stone as the foundation. The remaining areas on the property were heavily landscaped with climate appropriate vegetation, retaining walls, and minimal turf.
Other LEED elements include LED lighting, geothermal heating system, heat-pump water heater, FSA certified woods, low VOC paints and high R-value insulation and windows.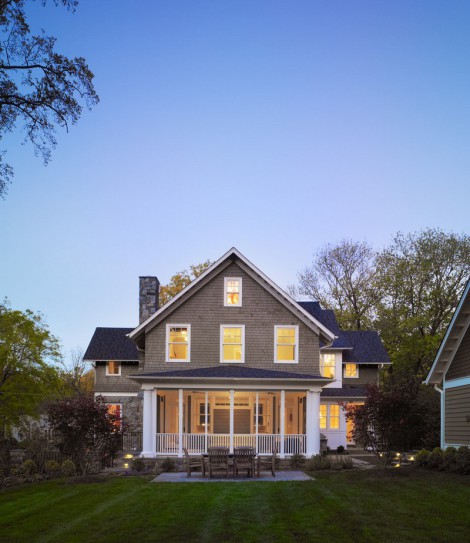 Beautiful symmetry and balance
See all photos in project: Monroe House
Architect: Moore Architects
Photography: Hoachlander Davis Photography