Laura Moss, based out of New York City, has been a commerical and editorial photographer for over fifteen years, shooting for many of the world's most famous brands, including Nestle, Chrysler, Donna Karan, Wal-Mart, Bacardi, Benjamin Moore Paints, and many others.
On the editorial side, her photographs have been seen in popular magazines, such as Martha Stewart Living, Woman's Day, House Beautiful, Domino Food and Wine, This Old House, Better Homes and Gardens, New England Home.
Laura, a lifelong champion for animals of all kinds, also loves photographing them and has published several dog calendars. She lives in Jersey City, NJ and spends her spare time renovating her hundred year+ old house and riding a vintage British motorcycle.
Phone: 917.701.5160
Website: http://lauramoss.com/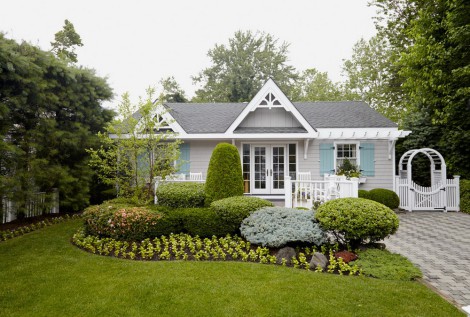 Front patio with shrubs and plants concealing it
See all photos in project: Classic Charming Cottage
Designer: Jules Duffy Designs
Photography: Laura Moss Photography