In 7th grade, Eric 's cousin (a photo teacher) enrolled him in a summer school photo class (to keep him out of trouble). There, Eric found himself riding around in a 1970s van (featuring shag carpet) with a bunch of rowdy high schoolers and a 4×5, shooting pictures in the middle of nowhere. He fell in love with photography (and hanging out with high school girls), and continued with these summer courses until reaching senior high himself, when he could shoot year-round. The rest of Eric's secondary school career was spent under the dim red light of the darkroom.
Bigger darkrooms at The New England School of Photography followed. Then it was on to assisting a wide range of photographers before striking out on his own. Throughout Eric's now twenty-year commercial and editorial photography career, he's shot everyone from world leaders to CEOs, and astronauts (or at least an astronaut).
Eric's laid back style and ability to get along with just about anyone has allowed him to create a multitude of captivating portraits (and a couple humdrum ones), and to make even the most routine subjects appear intriguing (or at least palatable).
And while he doesn't have any awards—since he doesn't enter competitions —Eric does have a long list of notable clients including Adobe, Barron's, Bloomberg, Burberry, Charles Schwab, Forbes, Kiplinger's, LinkedIn, Mother Jones, Salesforce, and The Wall Street Journal. He also cofounded BigShotStock and Editorial Photographers (EP), two non-profit photography organizations.
When not shooting from some pretzel-like position, or attempting to be funny on set (he's really not that funny), Eric likes to get as far away from technology as possible. With his wife and two sons, he can be found camping, skiing or polishing his archery skills—and would have been an adventure photographer if he didn't hate lugging heavy gear so much. Originally from Boston, Eric currently lives with his family in a solar powered house in San Francisco. His weekends are spent at their remote cabin, letting his wife take the pictures (while he builds the outhouse).
Address: 656 2nd Avenue, San Francisco, California, United States, 94118
Phone: 415.750.9999
Website: http://www.ericmillettephotography.com/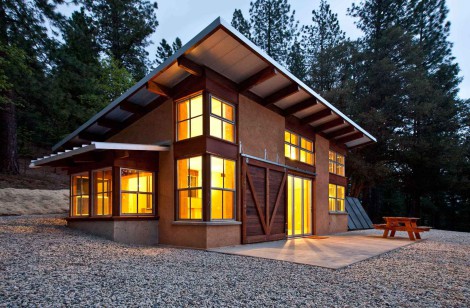 Small cabin style, straw bale walls, nice sloped roof
See all photos in project: "Chalk Hill Off-Grid Cabin"
Architect: Arkin Tilt Architects
Photography: Eric Millette Photography