CHALLENGE
This empty-nester couple wanted to make a few changes here and there with mouldings, trim and cabinets…but still weren't satisfied with the overall effect.
SOLUTION
Brandi consulted with the couple and presented several ideas that made them realize a few changes weren't going to get them the living space they wanted—they needed a full remodel.
OUR DESIGN PROCESS
This Lake Minnetonka home was an unusual project that started with small changes the clients wanted in their living room. Originally thought to be simple renovations the couple's builder could make, the builder called Brandi when he saw the couple's vision needed needed a professional designer's eye and insight.
While the home's layout stayed untouched, coffered and barrelled ceilings were built to add interest and sophistication to the living space.
Sometimes clients want one or two changes, but after further discussion and exploration of design options, realize a full redesign is really needed. That was the case for the kitchen, where the original change was to replace the sink and update the countertops.
The floorplan of this home was wide open, so care had to be taken in those areas that bridge two different spaces. Fabrics and colors are key components in these transitions.
The last room that needed attention was the executive office. By bringing in textures and materials used in the other rooms of the home—such as the rift-cut oak to build the desk, and the warm tones of the wall coverings—this office space was brought to life, and became a fun space to work in.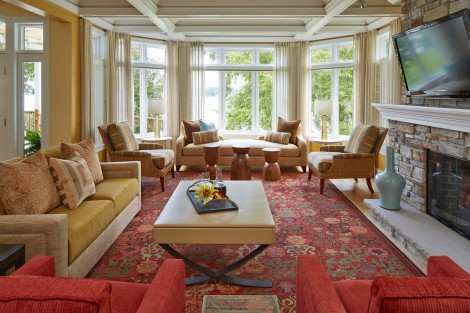 See all photos in project: Empty-nester Chic
Designer: Eminent Interior Design
Photography: Troy Thies Photography