Coles Hairston Photography
Coles Hairston is an award-wanning Austin based location photographer. Working with ad agencies or directly with the client, he produces dynamic images that often exceed expectations and help achieve objectives. Over the past 15 years he has completed assigments throughout Texas and in 10 other states, plus Costa Rica and Mexico.
Clients include Fortune 500 companies Dell, IBM, AT&T, Ryland Group Ltd, Lennar Corp., Fluor Corporation, New York Life Insurance Company, and Wal-Mart Stores Inc., as well as national companies Montecito Property Company, National Land Partners LLC, ATP Oil and Gas, and numerous Texas architects, builders, developers, engineering firms, interior design firms, helthcare and financial institutions.
After graduating from the University of Texas at Austin, Coles attended Brooks Institute of Photography, and won a scholarship to the prestigious Eddie Adams Workshops. You can see his work published in numerous booksand in magazines such as Southern Living, Texas Monthly, Texas Architect, and Unique Homes.
He lives off South Congress in a studio he designed and built in 1999. Precious spare time is spent building furniture and sculpture from stainless steel and exotic hardwoods, traveling the United States and Europe, and petronizing the Austin live music scene.
Address: Austin, Texas, United States
Phone: 512.416.6060
Website: http://www.coleshairston.com/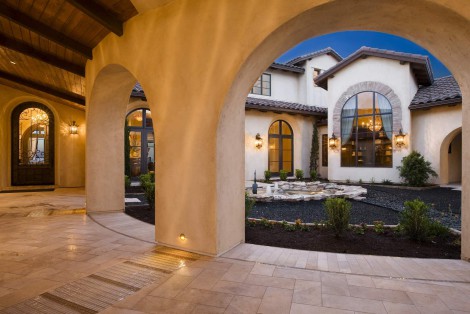 Archway openings and wood ceiling
See all photos in project: Rough Hollow Residence
Architect: Cornerstone Architects
Photography: Coles Hairston Photography