This single-family home remodel was completed in 2012. The clients had been living in their classic 1970's home for 12 years when they felt they were ready for an upgrade, but were not willing to give up its great location. The solution was to expand the existing house from a one-story structure with basement media room to a two-story house with an expanded finished basement including a new subterranean wine cellar and a second floor consisting of a generous master suite. This couple love to entertain and often have house guests, so the new master suite was designed to be a more private retreat, providing sanctuary from the more public living area.
The house is sited on a narrow lot proximate to the bluff, which meant going up was the only way to add square footage to the house. The original gable-roofed, prow-shaped body of the main living area was retained. One of the major design challenges was how to tie a new two-story addition to this existing roof structure and make the house feel like a cohesive whole. One of the original bedrooms was used to create a stair up to a bridge that cuts across the gable, connecting the new second floor master suite to the rest of the house.
The approach to the house was altered by removing the large asphalt circular drive and replanting it with native vegetation and a single concrete drive patterned to match the house siding. At the main entry visitors are invited and drawn into the house with hints of the interior space and the incredible view beyond.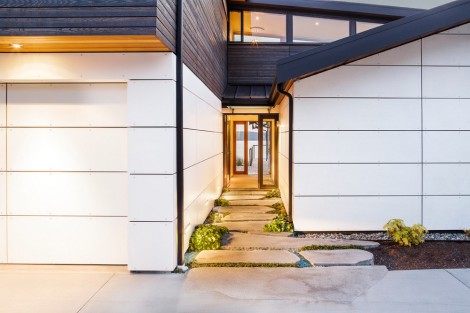 Glass entry door and stone pavers
See all photos in project: Camano Island Remodel
Architect: Prentiss Architects
Photography: Jay Goodrich Photography